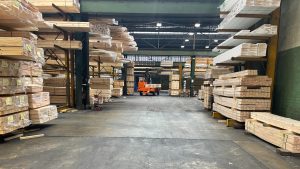 Tonge Bridge Timber Sales (U.K.) Ltd are the North of England's premier manufacturer and distributor of machined timber products to merchants and manufacturers. We provide a comprehensive range of planed and moulded stocks (patterns are available upon request), special patterns can be produced to order. 
We offer a 48 hour delivery service on a wide range of stock items and 7-10 working days for specials. We are based in Bolton benefiting from easy access to the motorway network, delivering all over the North daily on our own fleet of wagons.
At Tonge Bridge we pride ourselves on quality of service and product. Our high quality timber is mainly sourced directly from reputable Scandinavian mills. By continually investing in our production facilities we ensure high quality finish and packing of goods. Once wrapped the packs are stored in our sheds on site to maintain excellent condition of goods.
As well as all timber we sell being certified, we try to minimise environmental impact and maximise efficiency in all processes. To this end we are proud that we recycle, sell or reuse all timber and plastic waste from our production.
If you are a Timber Merchant or Builders Merchant and are looking to set up an account or find out more please contact us on:
Email: sales@tongebridgetimber.co.uk
Phone: 01204 417 676
#wholesaler #timber #wood #supplier